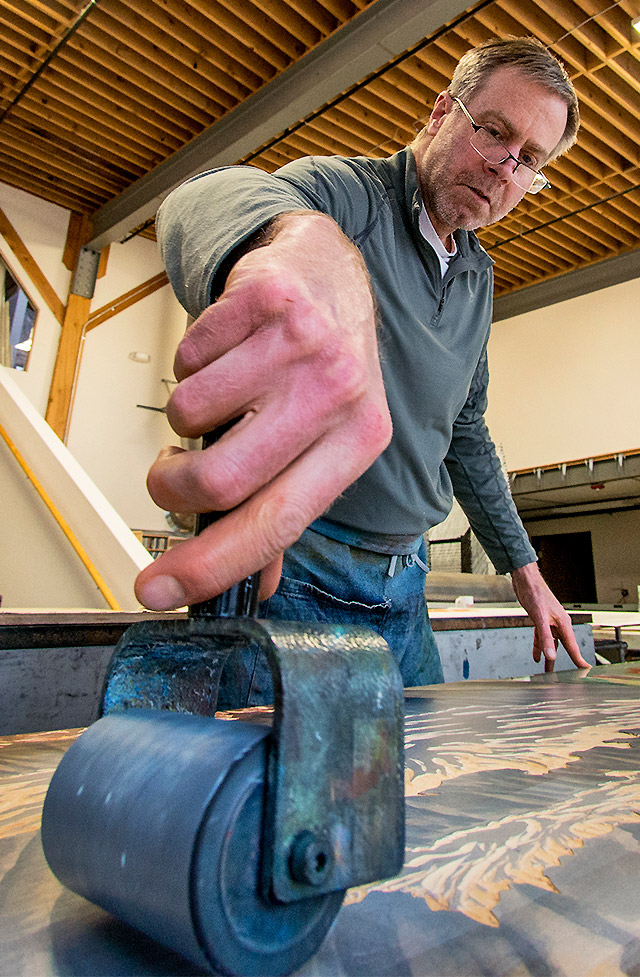 Artist's Statement
Continuing in the long-standing tradition of exploring nature, I am fascinated by ordinary–and extraordinary­–landscapes, weather, and space.  From the micro- to macroscopic, I find myself in the center and am compelled to draw or paint this juxtaposition, as I perceive it.
Biography
Born and raised in Southern California, artist and printmaker, Bruce Crownover came to Madison to study printmaking at the UW-Madison's renowned printmaking department.
1987, his first year in Madison, was the same year professor Bill Weege founded Tandem Press.  Crownover and other students were invited by Weege to volunteer at Tandem to help him launch the printmaking studio. In 1989, two years after Tandem opened, Crownover earned his MFA in printmaking.
Shortly thereafter, Crownover met Keiji Shinohara, a Japanese Ukiyo-e master printer, and was offered a job carving woodblocks for his studio, Cherrywood Press, in Boston.  Crownover traveled to Boston and worked for Shinohara creating prints for Sean Scully, Chuck Close, Robert Stackhouse and John Newman.  These prints were executed in both Boston and New York.
In 1992, Crownover returned to Madison, opened an art studio of his own and was hired as a part time Associate Printer at Tandem.  He also worked for Weege making paper at his studio, Off Jones Road, in Arena, WI.  When not working at either Tandem or Off Jones Road, Crownover painted in his studio, primarily producing watercolor, pen and ink drawings and paintings.  His paintings, drawings, and encaustics on handmade paper have been shown in various galleries and venues throughout the area.
In 1994, Crownover became a full time printer at Tandem.  In his years spent there, he became a close collaborator with many artists, most notably Sam Gilliam, Sam Richardson, Richard Bosman, Robert Cottingham, and Judy Pfaff.   He honed his wood-carving, relief, and intaglio skills and became known for his range of printmaking techniques.  In all there have been over seventy artists he has worked with at Tandem Press including Phillip Pearlstein, Charles Arnoldi, Chuck Close, Sean Scully, and Jim Dine. Crownover, either directly or secondarily, was involved in creating and editioning hundreds of their prints. He retired from Tandem in December 2018.
After leaving Tandem, Crownover assumed his current role as Assistant to the Director of Installations and Facilities at the Madison Museum of Contemporary Art, Wisconsin.
Bruce has also been a guest lecturer throughout the country in museums, colleges and universities, promoting Tandem Press and the mission of the School of Education at UW-Madison, working as a guest artist, and sharing his art experiences with others.
Since 2009, along with artists Todd Anderson and Ian van Collier, Crownover began working on a documentary project entitled The Last Glacier.  Through painting, photography, and printmaking, the fieldwork in the National Parks for this project captures a glimpse of the retreating glaciers of the Waterton-Glacier International Peace Park in Alberta, Canada, and Montana.  Of the originally documented 150 glaciers, only 25 remain.  Visit The Last Glacier website to learn more about this multi-year, collaborative project that has resulted in large-scale, handmade books with original art bound by Master BookBinder Rory Sparks.
The following organizations have collected Bruce's work:
– Davis Museum of Art at Wellesley College, MA
– Emery A. Gunnin Architecture Library, Clemson University, SC
– Jordan Schnitzer Family Foundation, Portland, OR
– Memorial Library, Special Collections, University of Wisconsin-Madison, Madison, WI
– Metropolitan Museum of Art, New York City, NY
– New York Public Library Print Collection, New York City, NY
– United States Library of Congress, Washington D.C.
– University of Wisconsin-Madison, Memorial Library Special Collections
– Yale University, Robert B. Haas Family Arts Library, New Haven, CT
– Stanford University, Bowes Art & Architecture Library, Stanford CA
– Madison Children's Museum, Madison, WI

Here is what other artists say about Crownover:
"Bruce must be the person John Wayne was modeled after.  I realized this particularly after I saw him with his router.  I think he's a wonderful person because Bill Weege and I raised him.  It's not that Bruce is going to be a great artist but he is one now."
–Sam Gilliam, artist
"What makes working with Bruce so special is that in addition to being a Master Printer, he is also an artist whose work I respect.  As a collaborator, he brings an enviable understanding of the many print processes.  As a fellow artist he is capable of understanding my goals and is thus able to direct me to the best means of achieving them in a print. I am happy-more than happy, to have his hand in my work.  When, at the end of the process we have an edition of which we are both proud, it is always better than I could have imagined, and always a true collaboration of artists."
 –Suzanne Caporael, artist
"Bruce Crownover is a seasoned printer and a mainstay at Tandem Press. He has worked at the shop for at least as long as I've been printing there, which puts him at the "over fifteen years" mark.
Bruce is a pleasure to work with. Besides his skills, technical advice, and problem-solving abilities, Bruce's wide-ranging interests guarantee that lively conversation will accompany the day's work.
I find Bruce's schedule equally impressive. When a day at Tandem comes to an end, he will almost certainly head home to continue his own creative work, whether it be drawing,  watercolor, or other experimental projects. I greatly admire the devotion he has to his work.
He is a Renaissance Man."
–Robert Cottingham, artist
Press Release: The Metropolitan Museum of Art
November 2017
Dear friends,
We're excited to announce that the artist book, "The Last Glacier," created by Bruce Crownover, Todd Anderson, and Ian Van Coller (with forward by Nancy Mahoney and binding by Rory Sparks), is now on display at the Metropolitan Museum of Art in New York City. The book was acquired by the Met in 2016, and is part of "Drawings and Prints: Selections from The Met collection," in gallery 690. The link and exhibition overview can be found below. Of note is the last sentence of the overview that describes "The Last Glacier" and similar pieces, "…works by contemporary artists that deal with the environment, both natural and man-made, often in the face of rapidly shifting conditions."
Of special significance for these three artists is the fact that the museum is extremely selective in acquiring art created by any artist, let alone living artists. This includes "blue-chip" artists, non-academic artists, and even rarer, academic-based artists—those with a full-time college or university career. Furthermore, acquisitions must be able to operate in context and conversation with 10,000 years of global art making and multiple curators must agree on that purchase. "The Last Glacier" has been selected as worthy of inclusion in the global canon of creative works as it serves as a national record that will help future generations understand who we are.
To create "The Last Glacier," the three artists traveled to the Waterton-Glacier International Peace Park in Montana and Alberta, Canada to sketch, paint and photograph the park's remaining twenty-five glaciers. This fieldwork is the basis for the creation of 13 original reductive woodblock prints and 10 photographs bound in a 25" x 38" book, in edition of 15. The books are sold out. The three artists are currently creating another book, entitled "ROMO," documenting the receding glaciers in Rocky Mountain National Park. Please visit TheLastGlacier.com for more information about the artists and their projects.
https://www.metmuseum.org/exhibitions/listings/2017/drawings-and-prints-november-rotation
DRAWINGS AND PRINTS: SELECTIONS FROM THE MET COLLECTION
At the Met Fifth Avenue
November 21, 2017 – February 5, 2018
Exhibition Overview
The Department of Drawings and Prints boasts more than one million drawings, prints, and illustrated books made in Europe and the Americas from around 1400 to the present day. Because of their number and sensitivity to light, the works can only be exhibited for a limited period and are usually housed in on-site storage facilities. To highlight the vast range of works on paper, the department organizes four rotations a year in the Robert Wood Johnson, Jr. Gallery. Each installation is the product of a collaboration among curators and consists of up to 100 objects grouped by artist, technique, style, period, or subject.
This installation features a selection of prints illustrating the lavish festivities and ceremonies celebrated in Venice, a city that always been intimately tied to the sea; portraits of artists by Spaniards, including Francisco Goya (1746–1828) and Pablo Picasso (1881–1973), which reveal the great variety of ways these artists approached their sitters; a focused look at canceled printing plates; a group of poetic British landscape drawings and watercolors selected to elucidate a new acquisition, Sabrina, by Samuel Palmer (1805–1881); British and American watercolors and color woodcuts focused on dramatic skies by John Constable (1776–1837), David Cox (1783–1859), and Arthur Wesley Dow (1857–1922); drawings made by British artists who worked in India during the East India Company period (before 1874); and works by contemporary artists that deal with the environment, both natural and man-made, often in the face of rapidly shifting conditions.